This course covers the process of product development and trains the use of state-of-art computer tools with fabrication facilities to generate new models and new prototypes. Participants shall learn how to generate innovative product concepts and further build mechanical and electrical prototypes. With the guidance of the experts in product development, participants will be able to get in-depth knowledge and comprehensive hands-on experience in key methods and tools such as CAD software modelling, plastic laser cutting, Fused deposition modeling (FDM) 3D printing. Practice Design for Manufacturing and Assembly strategies in product design analysis and understand the quality management systems.


The programme employs the Learn-Practise-Implement™ (LPI™) pedagogy, where fundamental knowledge and principles taught will be reinforced with hands-on practices.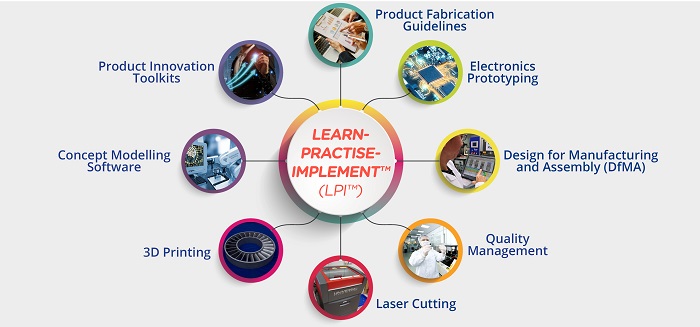 Full

Nett

International Participants

Singapore Citizens, Singapore Permanent Residents and LTVP+ Holders

Employer-sponsored and self-sponsored Singapore Citizens aged 40 years and above (MCES)

SME-sponsored local employees (i.e Singapore Citizens, Singapore Permanent Residents and LTVP+ Holders) (ETSS)

S$4,000

S$4,320

S$1,296

S$496

S$496
Singaporeans aged 25 years old and above are eligible for SkillsFuture Credit which can be used to offset course fees (for self-sponsored registrations only).
For corporate training or individual participants, please let us know your preferred date(s) in the Register Interest form below.